I've been really hesitated to post this [due to my horrible English writing and twisting of TW2 story and very little knowledge of The Witcher universe back then] but then I think
how would I improve without some bash to the head
. XD
It's a fanfic [first one ever] I tried to write to satisfy my crazy fandom for TW2 and the blue strips.
It's a story of a Nilfgaardian bard/journalist who ran away from home to record epic battles of wars and such before she found herself locked up in the La Valette castle when the attack began.
The crazy bard had to find a way to lie and lie after lies to get herself out of trouble and stay away from rapists!
Some part of the story might not make sense now that I think about it, so if you have any question please feel free to throw them at me so I can make the story better.
The fanfic can be found,
here
.
WARNING: Rated T for teens... There's probably too many cursing and cocky humors in the story...
[Yup, the same bard you see in my other TW2comics XD]
Lefou [Melánia]
A journalist and minstrel bard who spend most of her time traveling the surface of the Northern Kingdoms and a daughter of high rank officer in Nilfgaard Military. The woman has bad habits of talking to herself and drifting out of reality so she has to put them in paper. Also a case of placing trust on someone after she has been betrayed her own family or just how she understood, though it was pretty normal during that period that a daughter is nothing but a tool to relation with other powerful houses.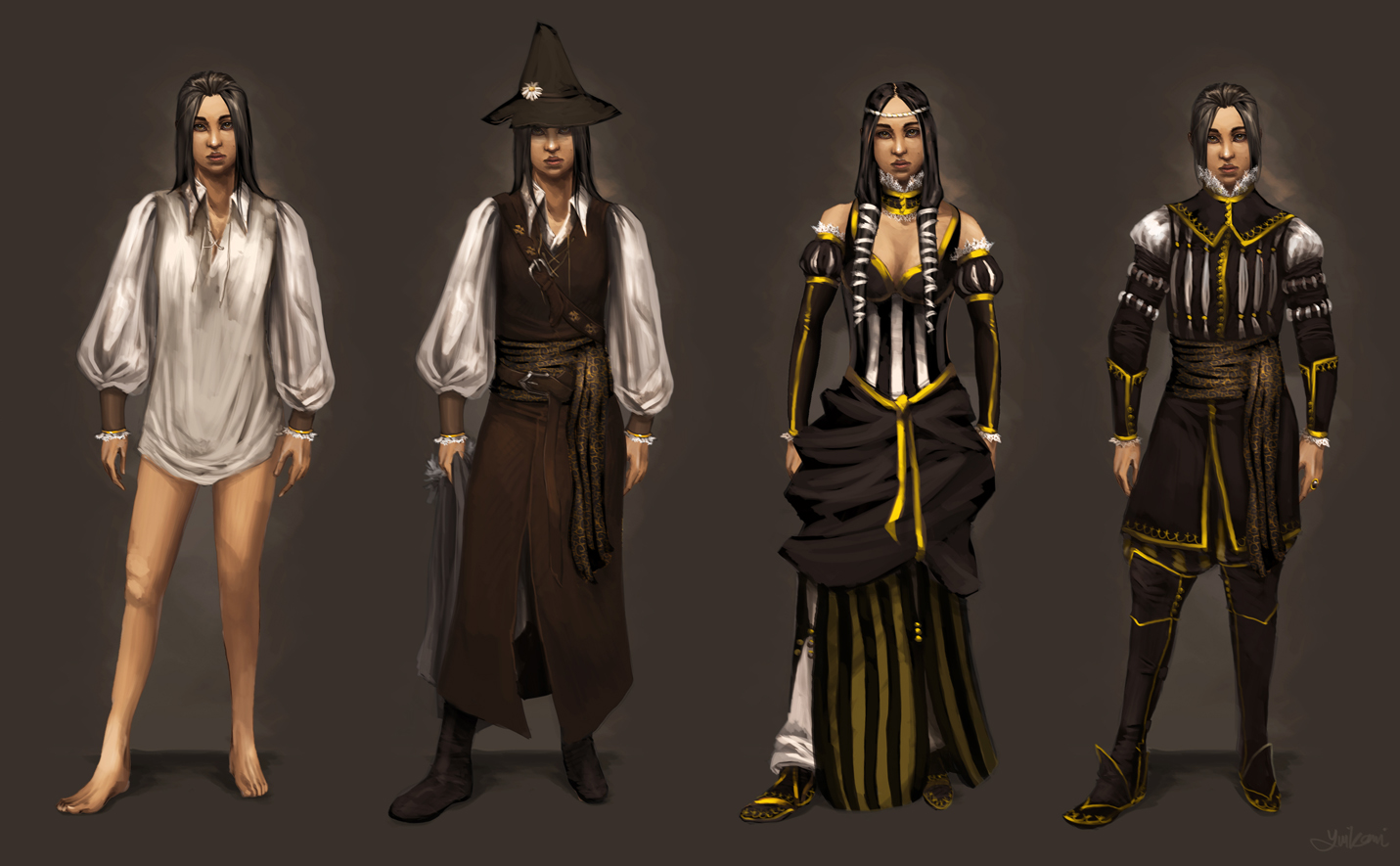 Some other costume sketches [I loveeeee costume designing...] It might not be totally according to Nilfgaard in the witcher universe 'cause of my very little knowledge of medieval style...
From left to right:
1 What she wares to sleep, just strip everything else but make sure the room is locked first...
2 What she wares now, and has been since she left Nilfgaard, for traveling and performing on the street.
3 What she wares at home, a noble outfit but sadly she doesn't bring this outfit with her and her hair has been cut short.
4 What she wares to the court for how she hate when other noble sons tries to talk to her like how they do to other woman in dresses.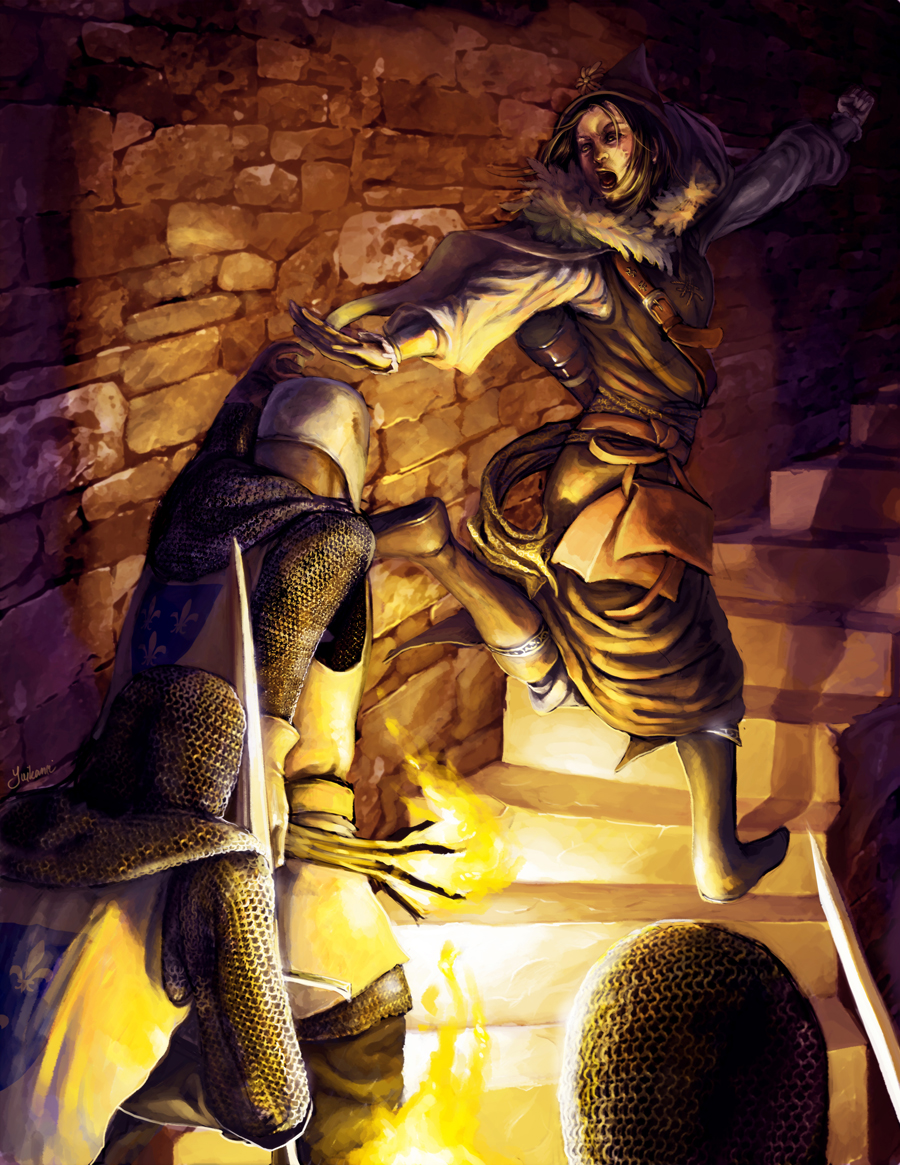 'I stepped back with both of my hands up. I knew better not to mass with fully armed guards all by myself, hoping they would at lease take me into custody but the look in their eyes didn't say the same. So I fled before they could even say a thing nor lowered their hands towards their belts. One of the guards nearly caught me by the cape so I slapped his hand off while the others got their swords out, the normal steel-swords if you are thinking of something else, but that was only to slow themselves down.'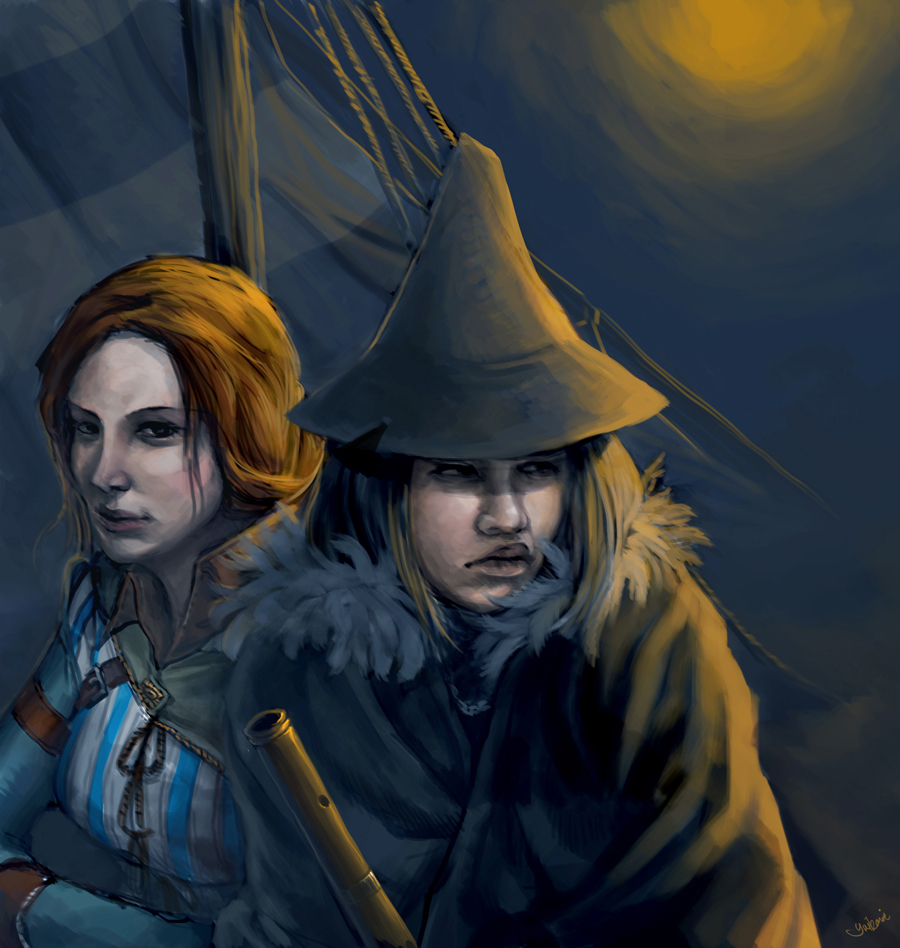 '"Men are stupid like that... but I see you respect his choice... just hope he would do the same one day..." I looked away... I couldn't face her... A woman who would stupidly throw herself into fire for someone she loves... this is not me and will never be... but somehow I feel kind of envy of her. I hate this feeling... I just signed... there was no other word I could say so I took out my flute. "Mind if I play a song?"'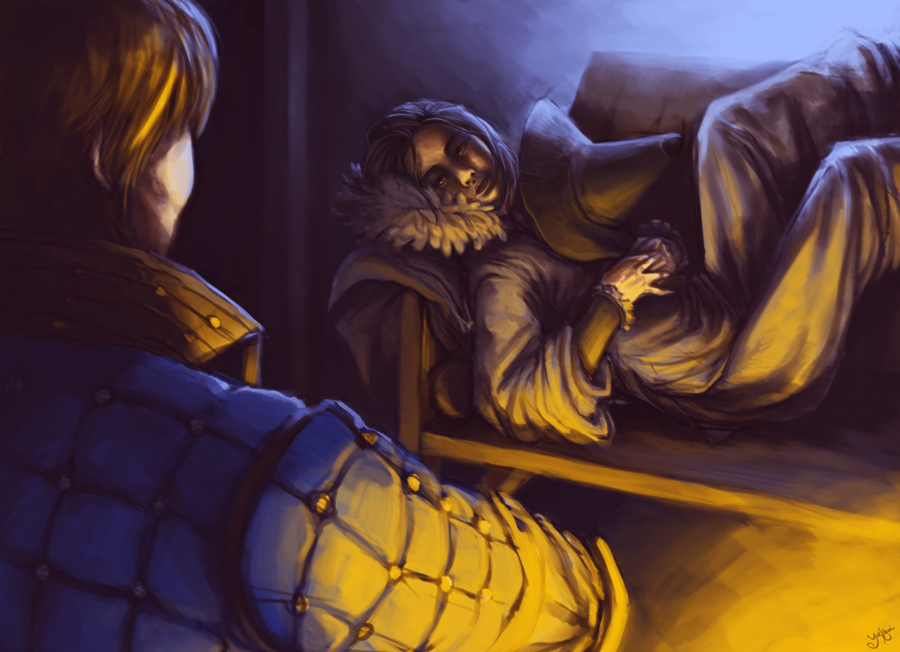 'I signed deeply. "You know, to libel me as someone of the empire that nearly took over my homeland was hurtful... What if you're being mistaken as a Scoia'tael spy yourself... And in case you're still wondering, I am from Brugge... My father was Temerian, a soldier at heart and died for protecting his homeland in the end." Put the emotion into the play, sounded serious and all... Even breathing heavily, too. That was a true story though... just it belongs to a prostitute I met in Brugge. "Any more question you would like to ask? 'cause I've had about enough of it... All I want is to make everyone see the pain those wars have brought... Doesn't matter which side they are on, everyone got hurt because of their kings' little game... I didn't mean for it to be inspiring anyone to go into war..." Now, that part is half true... If there is no war, I will loose my job... Yes, the beginning 'til near the end of my book supported the war, but it had tragic ending anyway, except for those who survived, lost of their love ones, their close friends and such.'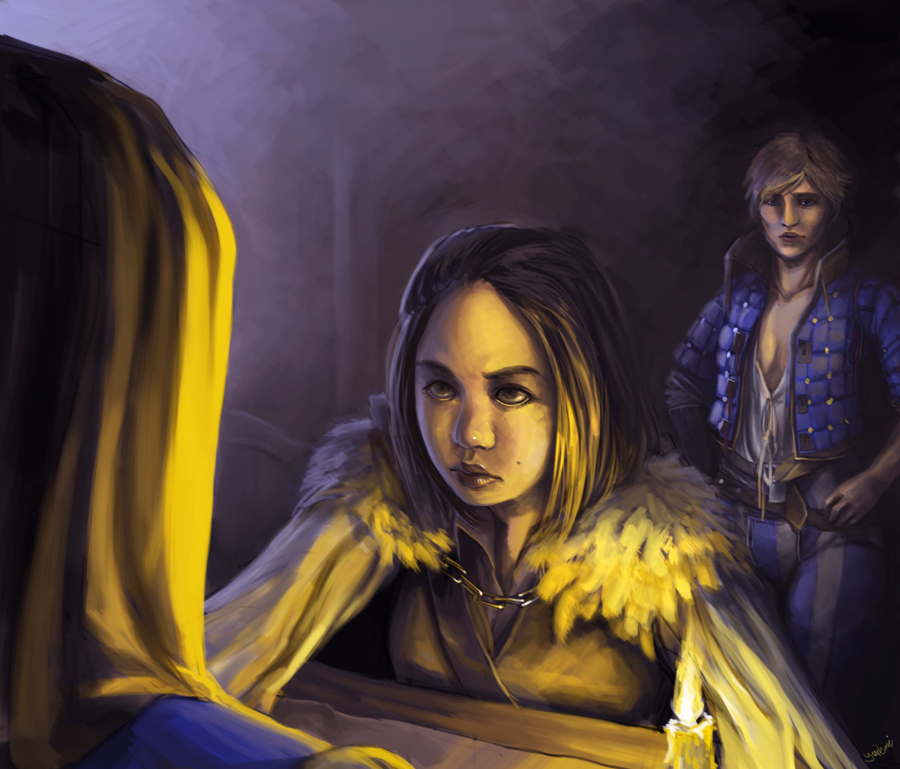 "Ves.. take her out." Not a chance! Before he could even wave his hand for the she-troll to come over, I locked my legs onto the chair, my hands grabbed onto his desk in front of me. Our eyes met each other from the other side of the desk. Those eyes of a killer... It was the longest 30 seconds in my life. "Fine, stay like that! I want to see how long you could do it anyway!" He did sounds pissed but I Just sat there... couldn't remember exactly how long but it was probably over an hour... I just sat there and stair at him. I knew he wouldn't beat me up for just sitting still though it was the cramp that actually got me. Ves sounded like she was trying not to laugh... Maybe no one was crazy enough to try this with the commander of special force but he then finally snapped as he tossed a couple pieces of paper at me. "Here!! Now get out of my face!" WIN! I hope every time that bastard go to sleep he will have to dream of my face! I guess I've mastered the art of annoying the hell out of the angry blue man!
Another character I added to the story... but you all know what's coming for him <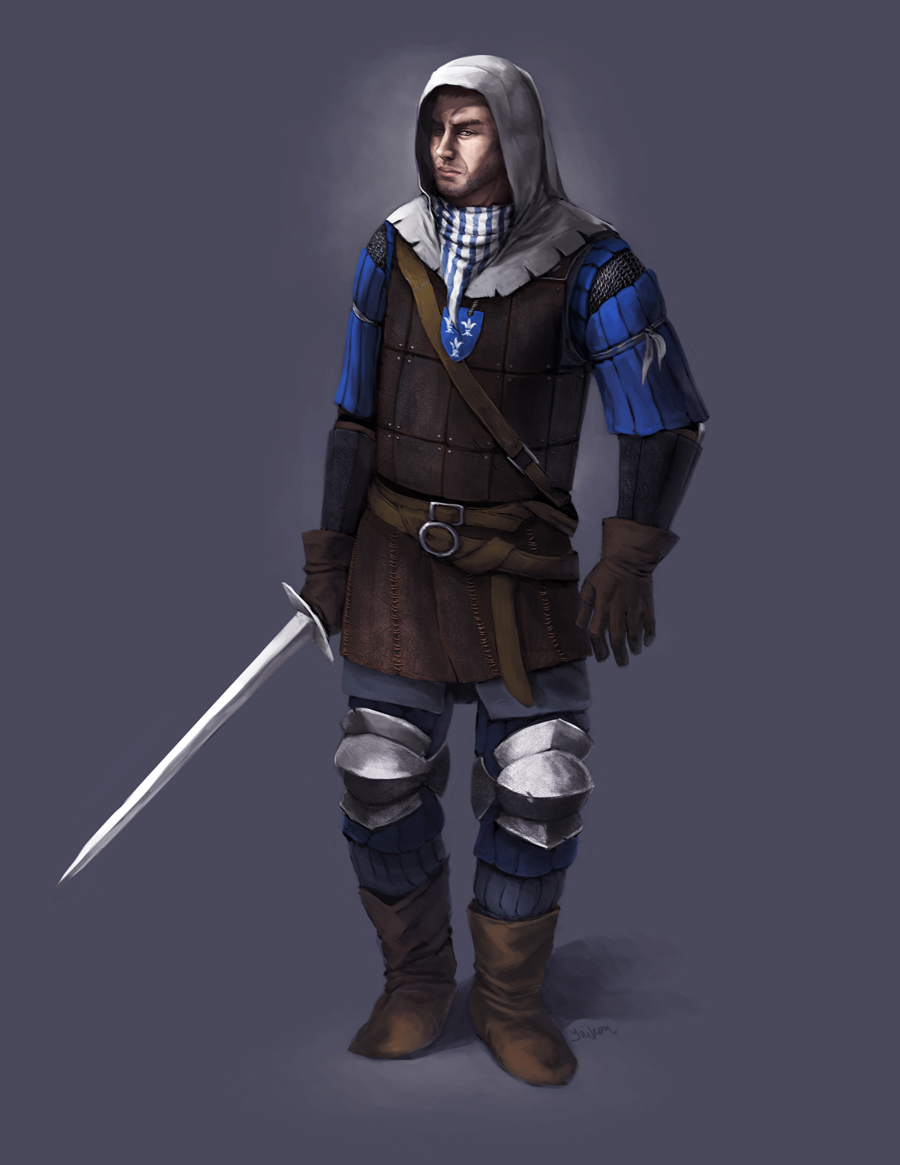 Thank you for every comments > <!